Mount Rinjani National Park, Lombok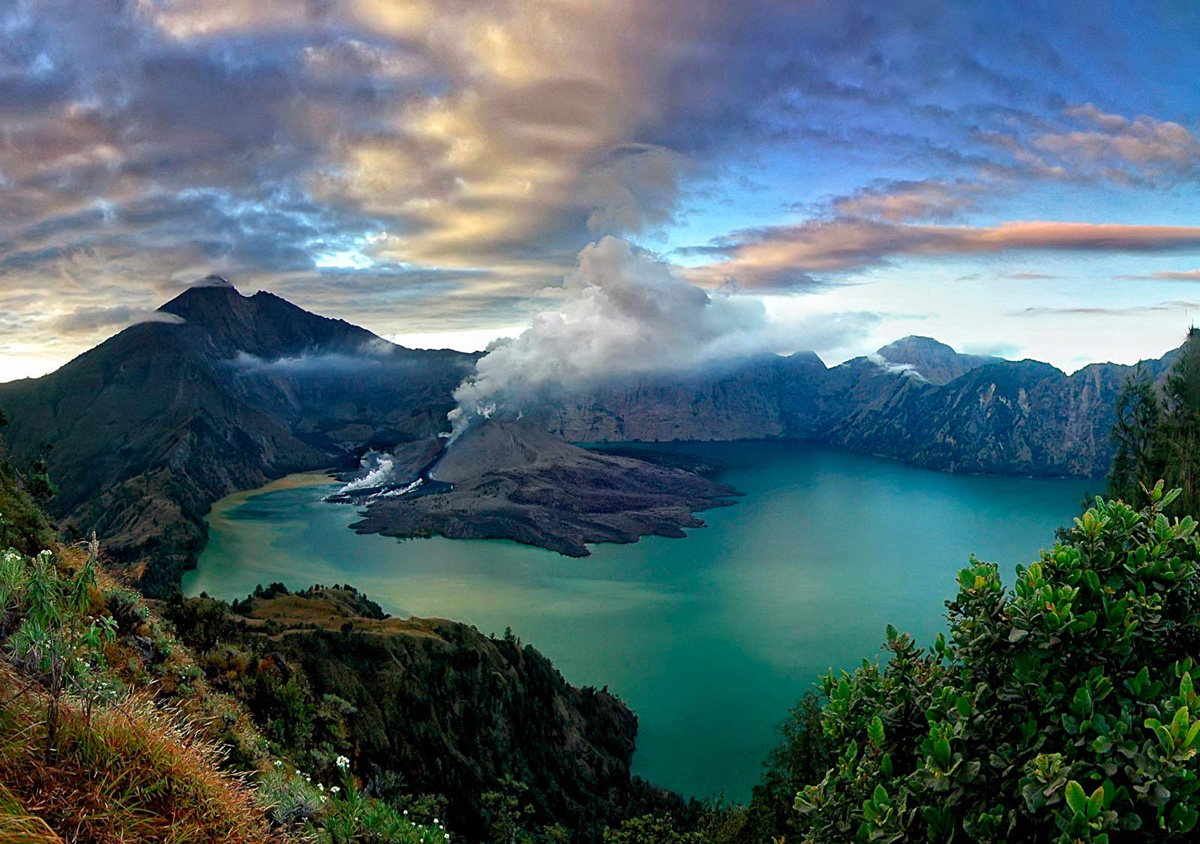 The mighty Rinjani mountain of Gunung Rinjani is a massive volcano which towers over the island of Lombok. A climb to the top is one of the most exhilarating experiences you can have in Indonesia. At 3,726 meters tall, Gunung Rinjani is the second highest mountain in Indonesia. The climb to the top may not be easy but it's worth it, and is widely regarded as one of the best views in the country.
Part of the famous 'ring of fire' this mountain also holds spiritual significance for the local people. It's thought that the name Rinjani comes from an old Javanese term for 'God'.
Around the slopes of Rinjani there are lush forests sprinkled with waterfalls and surrounded by stunning scenery.
Within the mountain is a crescent shaped lake, the breathtaking Segara Anak which is about 6km across at its widest point. This lake of sulfur is located 600 meters below the crater rim. Rising from the waters of this lake is a new volcano, Mt. Baru, which is a result of a series of eruptions during the 1990's. Segara Anak is a spiritual place. The Balinese come here each year and perform a ceremony called pekelan where jewelry is placed in the lake as an offering to the mountain spirit. The Wetu Telu people also regard the lake as holy and come here to pray on full moon nights.
Mt Rinjani lies within the Gunung Rinjani National Park. The park covers 41,330 hectares and sits inside a major bio-geographical transition zone (Wallacea). This is where the tropical flora and fauna of South East Asia meets that of Australasia. This National Park was established in 1997 and is one of over 40 throughout Indonesia.
For visitors, the three-day Rinjani trek route from Senaru to the crater rim, down to the Crater Lake then on to Sembalun Lawang, is considered one of the best treks in South East Asia. More adventurous trekkers may want to head all the way to the summit of the volcano. This is best reached from Sembalun Lawang and takes four days, finishing up in Senaru.
To ensure that local communities benefit from tourism revenue, the Rinjani Trek is managed by a partnership of National Park officials, the public and private sectors of the Lombok tourism industry and community representatives. Community run cooperatives coordinate the Trek at the Rinjani Trek Center (RTC) in Senaru and the Rinjani Information Center (RIC) in Sembalun Lawang.
Revenue from tourism activities and entry fees is used for conservation, management and assisting the National Park with maintenance of the Rinjani Trek, thus ensuring its sustainability. This management model is unique in Indonesia and considered an example of best practice of ecotourism in Indonesia.
Get There
Senaru and Sembalun Lawang Villages are the two starting points to climb Gunung Rinjani. Senaru Village is a three hour drive north of Mataram, while Sembalun Lawang Village is approximately a four hours drive to the east of Mataram.
You can get to Senaru by taking public transport to Bayan and then walking.
The climb is not to be taken lightly. You need good hiking boots. Once you arrive at the crater rim it tends to get cold and windy, so you will also need warm clothes.
A guide is essential as parts of the path are indistinct. Independent hiking is not recommended.
Don't go there during the rainy season since paths will be slippery. Often it is not possible to climb during rainy season due to the hazard of falling rocks.
It's better to bring your own sleeping bag but, if you don't have one, they can be hired.
Tents can be rented.
To Do
Nothing says challenge like climbing up an active volcano. Trekking up Mt Rinjani is a test of endurance but you'll be rewarded with spectacular views of volcanic landscapes, sulfur lakes and waterfalls and other magnificent scenery along the way. Once you've climbed the mountain, there are still many wonders left to explore in the park.
Discover secluded caves. There are three famous caves here Goa Susu, Goa Payung, and Goa Manik. Susu Cave is a good place for self reflection and is often used as a place to meditate.
Rejuvenate in the healing hot springs. The network of springs, called kokok putih, are the perfect place to rest your weary body. Locals believe the springs have healing powers. Water is collected from here and mixed with herbs to make medicinal oil. This is called Siu Satus Tunggal or in Bayan language Siu Satunggal which means that it can be used to cure a thousand types of disease.
Local strawberries grow along the route to Mt. Rinjani. While the fruit is red like a strawberry it has thorns like a rose. This fruit has a sweet and slightly sour taste and is good to eat, especially for trekkers who are hungry and thirsty.
The Eternal Flower or Edelweiss is a rare and precious plant. The flower cannot be removed from the park. It is a part of the mysterious world of the spirit kingdom. In the past, someone who wanted this flower had to be brave enough to fight and gamble his soul. That is why the flower is called Sandar Nyawa.
Gunung Baru is the name of the new volcano which emerged in the center of Segara Anak Lake. People believe that Gunung Baru is the navel of Gunung Rinjani.
Tetebatu is a village nestled on the slopes of Rinjani with magnificent views of rice paddies and tobacco plantations. From here, hire a guide to take you to Taman Wisata Tetabu (Monkey Forest) where you'll find cheeky black monkeys and spectacular waterfalls.
Guided village tours can also provide a glimpse of local culture and the opportunity to meet the locals.